How to create backup copies
In Diafan.Cloud, there are no once-a-day automatically created backups as is done on many other hosting services. However, this does not mean that your site is exposed to the threat of possible irretrievable recovery in the event of an incident. You can control the backup process and frequency manually.
Backups are mostly needed to correct the destructive changes accidentally or mistakenly made by the site user. Basically, this is about information deleted. For most cases, the «Recycle Bin» tool will be suitable for recovering accidentally deleted information. However, if a module is completely deleted or the Recycle Bin is cleared, the information can only be obtained from the database backup dump, which the user can create in advance.
In DIAFAN.CMS, there is a built-in tool for working with backup copies of the «Export/Import DB» database. Whenever you want to make a backup copy of data on your site, just go to that module and click «Download file» in the Export section. Save the file to your computer in a convenient location.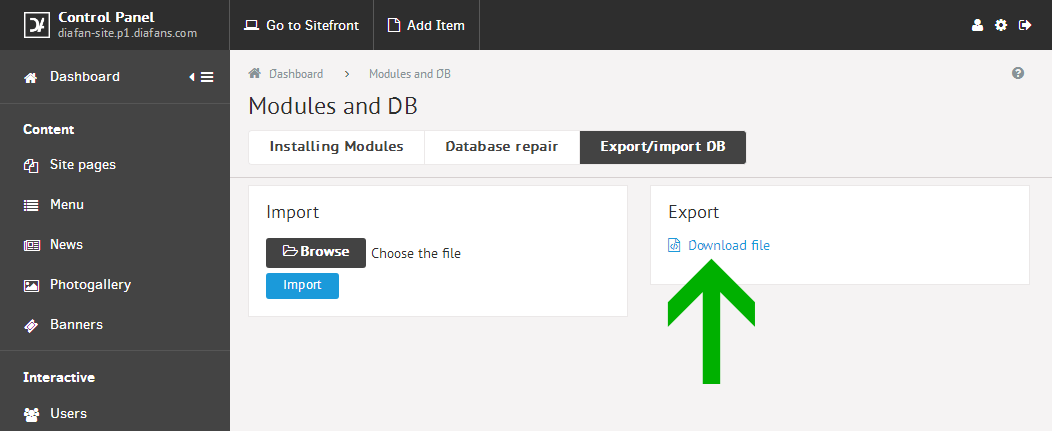 To restore the data, you need to load the previously saved file into the «Import» form.
It is important to understand that when importing and exporting a database, it is only the text information of the site that is involved. These are the site pages, menus, site structure and all the content of modules, including the names of goods, their characteristics and prices. However, in addition to the texts contained in the modules, there may be still images that can also be saved, but this needs to be done separately. The tool for working with images and file backups is any FTP client. Connect to the site via FTP (provided for any commercial tariff) and download the /userfiles/ folder to your computer in a convenient location.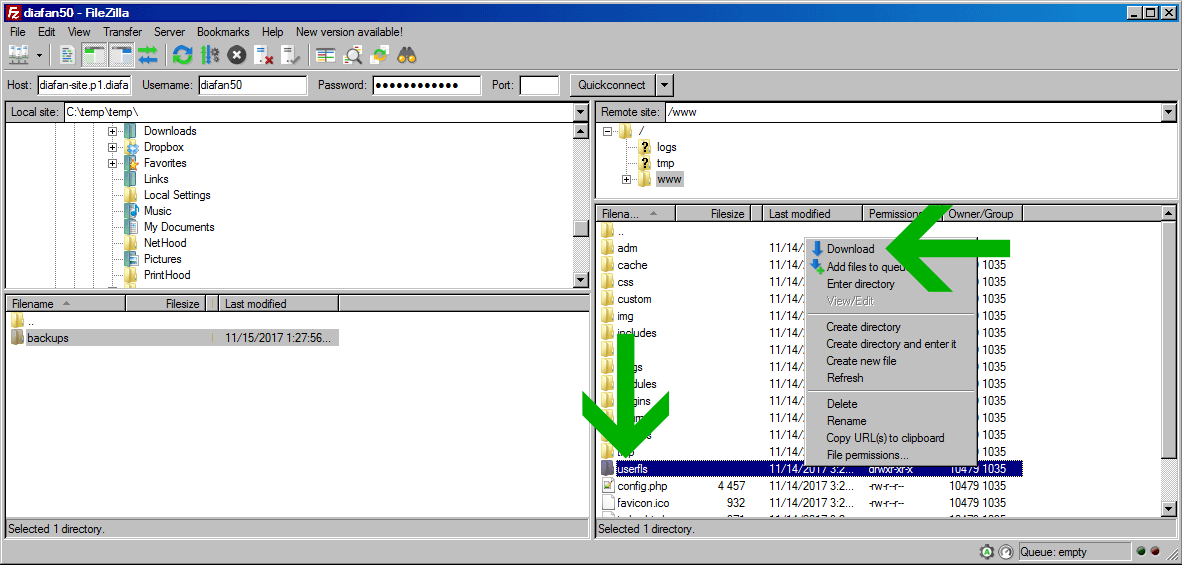 The DIAFAN.CMS system files and template files for your website are always preserved by us in the original form. Even if you accidentally delete something, for example, via ftp, we can always restore it in its original state if you request our technical support service.